Ghosts of Antarctica
1 year ago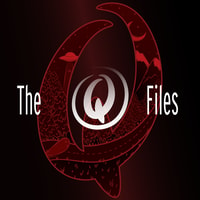 Antarctica is the most haunted place on earth. Located at the liminal edge of our maps. A place where there is one endless day of light, and one endless day of dark - both 6 months long. It's the only continent whose land is without a creation myth, because it never had an indigenous population. It's never had its own language, culture, history, or legends. It is a land of literal and proverbial emptiness - a canvas that its transient inhabitants can fill not only with dreams and ideas, but with nightmarish stories.
The Q Files is a personal, purposeful, paranormal podcast about the highly strange and weirdly unknown. Join us on our queer adventures as we explore the people, places, and phenomena, outside popular consciousness.
The documentary series features astonishing stories about the paranormal, the supernatural, occulture, forgotten history, and the strange.
Be Weird. Stay Curious. These are The Q Files.
If you enjoyed the show, be sure to subscribe and leave a review.
Stay in touch: Facebook: The Q Files Podcast, Twitter: TheQFilesPod, Instagram: TheQFilesPod The music for The Q Files is provided by Sounds Like An Earful.