S1E5 - Holiday Haunts - Christmas Ghost Stories
3 years ago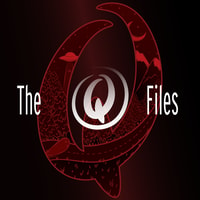 Holiday Haunts - Christmas Ghost Stories
Welcome to a special holiday edition of The Q Files. There's murder and mystery in the cold winter air. So curl up next to the fire, and pour yourself a mug of hot chocolate, because it's the most wonderful time of the year.
On this episode of The Q Files, Shane and Lori will sit down with their friend Bucky Cutright of Booze & Boos and discuss the holiday tradition of Christmas ghost stories. After, they join Bucky on a haunted holiday tour around Columbus, Ohio.
Be Weird. Stay Curious. If you liked this episode, please take a moment to subscribe.
Your hosts, Shane McClelland and Lori Gum, the self-proclaimed queer Mulder and Scully, are curious explorers of the weird and strange. They co-created the hit series 'Queer Ghost Hunters' and together with their team of paranormal experts explore the strange, the unknown, and the phenomena outside popular consciousness.
Connect with us on Facebook at: The Q Files Podcast; and on Twitter & Instagram at: TheQFilesPod
We'd love to hear from you.