Painting the Unexplained - Ralph Walters
2 years ago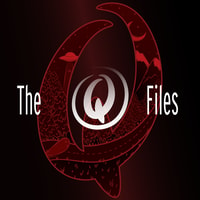 Welcome back to The Q Files, in this episode, we'll be discussing the mystical, magical, and paranormal. Events and experiences that are often hard to describe with words. The overwhelming power of such an unusual experience is often processed instead as raw emotion, splintered memory, wonder, confusion or even horror.  How do we convey our own reality to others in truly persuasive and authentic communication?
For this episode, we have invited our very own Columbus artist, Ralph Walters, to talk with us about his new, exciting and unique project entitled, "Painting the Unexplained".  As Keith Haring once said, "Drawing is still basically the same as it has been since prehistoric times. It brings together man and the world. It lives... through magic".
For updates on Ralph's series, Painting the Unexplained, make sure you've liked The Q Files Facebook page.
The Q Files is a personal, purposeful, paranormal podcast about the highly strange and weirdly unknown. Join us on our queer adventures as we explore the people, places, and phenomena, outside popular consciousness.
The documentary series features astonishing stories about the paranormal, the supernatural, occulture, forgotten history, and the strange.
Be Weird. Stay Curious. These are The Q Files.
If you enjoyed the show, be sure to subscribe and leave a review.
Stay in touch: Facebook: The Q Files Podcast, Twitter: TheQFilesPod, Instagram: TheQFilesPod The music for The Q Files is provided by Sounds Like An Earful.