It's Time To Reopen The Q Files
3 years ago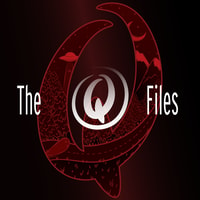 Are you ready? In Season one, we took you on many adventures - we conducted seances, hunted ghost trains, sought out demons and even dug up the dead. But we were just getting started. Now, on The Q Files, Season 2, we're going to fully embrace the notion that "not all those who wander are lost".
The Q Files is a personal, purposeful, paranormal podcast about the highly strange and weirdly unknown. Join us on our queer adventures as we explore the people, places, and phenomena, outside popular consciousness.
The Q Files documentary series will feature astonishing stories about the paranormal, the supernatural, occulture, forgotten history, and the strange.
Be Weird. Stay Curious. These are The Q Files.
Subscribe wherever you enjoy podcasts.
Stay in touch: Facebook: The Q Files Podcast, Twitter: TheQFilesPod, Instagram: TheQFilesPod
The music for The Q Files is provided by Sounds Like An Earful.