Dark Air with Terry Carnation
2 years ago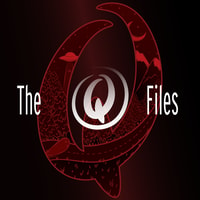 Dark Air with Terry Carnation premiers April 1st - wherever fine podcasts are sold.
In this bonus episode of The Q Files, we have a very special show, with a very special guest. Legendary AM radio host, provocateur, world traveler, bon vivant, raconteur, owner of a great set of gams and a glorious VHS rental store,  philosopher and paramour of the paranormal, a god incarnate, and host of Dark Air, Terry Carnation.
Dark Air is a fictional dark comedy podcast that explores the on and off-air life of Terry Carnation (Rainn Wilson) - a late-night talk-radio show host who deals with terrifying true tales, bizarre paranormal topics, and outrageous callers.
The Q Files is a personal, purposeful, paranormal podcast about the highly strange and weirdly unknown. Join us on our queer adventures as we explore the people, places, and phenomena, outside popular consciousness.
The documentary series features astonishing stories about the paranormal, the supernatural, occulture, forgotten history, and the strange.
Be Weird. Stay Curious. These are The Q Files.
If you enjoyed the show, be sure to subscribe and leave a review.
Stay in touch: Facebook: The Q Files Podcast, Twitter: TheQFilesPod, Instagram: TheQFilesPod The music for The Q Files is provided by Sounds Like An Earful.