S1E14 - The Crosswick Monster
3 years ago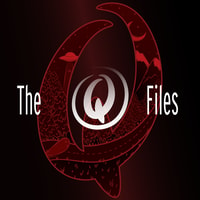 This paranormal adventure has Shane and Lori exploring the legend of The Crosswick Monster - a mysterious cryptid from Ohio.
Cryptids are animals that have not been proven to exist - like Bigfoot. However, as you'll learn, the cryptid from Crosswick is a reptilian monster that was seen by many folks before mysteriously vanishing.
Be Weird. Stay Curious.
If you enjoyed this curious cryptid episode - tell your friends and leave a review.
Your hosts, Shane McClelland and Lori Gum, are curious explorers of the weird and strange. They co-created the hit series 'Queer Ghost Hunters' and together with their team of paranormal experts explore the strange, the unknown, and the phenomena outside popular consciousness.
Connect with us on Facebook at: The Q Files Podcast; and on Twitter & Instagram at: TheQFilesPod
We'd love to hear from you.
The music in this episode was provided by 'Sounds Like An Earful' and is titled: "Suspicion Rising," "Greed," and "Grit"