Would You Like To Be On The Q Files?
2 years ago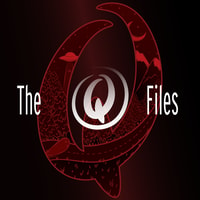 Season 3 of The Q Files is fast approaching and we want you to be a part of it!
All you have to do is record a 15-20 second audio file, easily done on your phone, and submit it to us at [email protected] no later than Wednesday, September 22nd. Tell us what you love about the show, your favorite episode, or just whatever keeps you tuning in.
We'll pick a few of our favorites and include them in the trailer for season 3.
The Q Files is a personal, purposeful, paranormal podcast about the highly strange and weirdly unknown. Join us on our queer adventures as we explore the people, places, and phenomena, outside popular consciousness.
The documentary series features astonishing stories about the paranormal, the supernatural, occulture, forgotten history, and the strange.
Be Weird. Stay Curious. These are The Q Files.
If you enjoyed the show, be sure to subscribe and leave a review.
Stay in touch: Facebook: The Q Files Podcast, Twitter: TheQFilesPod, Instagram: TheQFilesPod The music for The Q Files is provided by Sounds Like An Earful.