S1E6 - Witness - Minorities And The UFO Phenomenon
3 years ago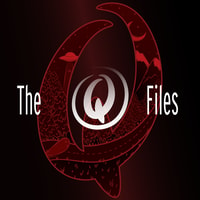 In this enlightening episode Lori and Shane sit down with Chris Blake to discuss the concepts in his Terra Obscura article "THE PATTERN AND THE PHENOMENON; WHEN PERSONS OF COLOR SEE UFOS."
Chris is a lawyer and journalist. We encourage you to read his article, and if you would like to engage further with Chris, he can be reached on Twitter: @ Chris3LB
Be Weird. Stay Curious. If you liked this episode, please take a moment to subscribe.
Your hosts, Shane McClelland and Lori Gum, the self-proclaimed queer Mulder and Scully, are curious explorers of the weird and strange. They co-created the hit series 'Queer Ghost Hunters' and together with their team of paranormal experts explore the strange, the unknown, and the phenomena outside popular consciousness.
Connect with us on Facebook at: The Q Files Podcast; and on Twitter & Instagram at: TheQFilesPod
We'd love to hear from you.
The music in this episode was provided by 'Sounds Like An Earful' and is titled: "After Dinner"