Donner Dinner Party
3 years ago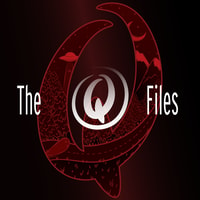 Welcome back to the second season of the Q Files. In our first episode, we will give you plenty of fascinating food for thought and more than a few human conundrums to chew upon. There are few stories that have captured the American imagination like the tragic and horrifying story of the Donner Party. We'll explore the tale of their cannibalistic nightmare...and host our own Donner dinner party.
The Q Files is a personal, purposeful, paranormal podcast about the highly strange and weirdly unknown. Join us on our queer adventures as we explore the people, places, and phenomena, outside popular consciousness.
The Q Files documentary series will feature astonishing stories about the paranormal, the supernatural, occulture, forgotten history, and the strange.
Be Weird. Stay Curious. These are The Q Files.
Subscribe wherever you enjoy podcasts.
Stay in touch: Facebook: The Q Files Podcast, Twitter: TheQFilesPod, Instagram: TheQFilesPod
The music for The Q Files is provided by Sounds Like An Earful. The dinner party music was provided through a creative commons license by Jazz at Mladost Club. It is entitled "Maiden Voyage" and was downloaded from freemusicarchive.org.