The Last Supper
2 years ago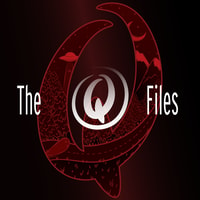 In this special Easter episode, we will be examining the lore, legend, and menu of, arguably, one of the most sacred events in Christianity known as "The Last Supper", the very basis of the Holy Eucharist or Communion.
Ultimately, we'll take a look at, executions. And more importantly, solitary, final dinners of the condemned known as, "The Last Meal".
If ya want tales of the Easter Bunny, Chocolate Eggs, and Peeps, well...this isn't the place. Frankly, Easter ain't pretty.
The Q Files is a personal, purposeful, paranormal podcast about the highly strange and weirdly unknown. Join us on our queer adventures as we explore the people, places, and phenomena, outside popular consciousness.
The documentary series features astonishing stories about the paranormal, the supernatural, occulture, forgotten history, and the strange.
Be Weird. Stay Curious. These are The Q Files.
If you enjoyed the show, be sure to subscribe and leave a review.
Stay in touch: Facebook: The Q Files Podcast, Twitter: TheQFilesPod, Instagram: TheQFilesPod The music for The Q Files is provided by Sounds Like An Earful.