S1E9 - When Lincoln Could Fly
3 years ago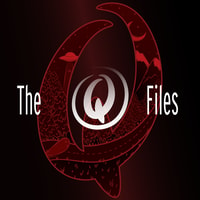 This paranormal adventure takes us back in time to when people could...fly.
Were there special gifts of flight, magically gifted half a world away? Could that gift be further given to another, with just a few magical phrases?
In this episode we sit down with historian, Professor William R. Black and discuss a few examples of historical, magical, flight. These are astounding supernatural stories, not often heard - phenomena outside the popular consciousness. Stories about President Lincoln, from ex-slaves, describing the unimaginable.
Come...fly away with us.
Be Weird. Stay Curious. If you liked this episode, take a moment to subscribe and leave a review.
Your hosts, Shane McClelland and Lori Gum, are curious explorers of the weird and strange. They co-created the hit series 'Queer Ghost Hunters' and together with their team of paranormal experts explore the strange, the unknown, and the phenomena outside popular consciousness.
Connect with us on Facebook at: The Q Files Podcast; and on Twitter & Instagram at: TheQFilesPod
We'd love to hear from you.
The music in this episode was provided by 'Sounds Like An Earful' and is titled: "Melancholia"