Doctoring the Devil - Appalachian Folk Magic with Jake Richards
2 years ago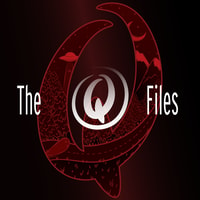 On this weeks magical show, we'll be discussing Appalachian folk magic with Jake Richards. Jake is an expert practitioner of Appalachian folk magic and the author of "Backwoods Witchcraft" and his latest, "Doctoring the Devil: Notebooks of an Appalachian Conjure Man". To celebrate having Jake on the show, we're also hosting a giveaway where you can potential receive a copy of "Doctoring the Devil" AND a set of Jake's brand new conjure cards.
You can enter the giveaway here or on any of our social media!
American folk magic comes in all shapes and sizes and is found in every region of the U.S. - Appalachian folk magic is part of that melting pot of superstitions, energy, and spiritual will. Created as our ancestors moved to the United States, their various folk magic practices intertwined and sometimes mixed with each other and the practices of Native Americans and oftentimes that of enslaved people as well.
The Q Files is a personal, purposeful, paranormal podcast about the highly strange and weirdly unknown. Join us on our queer adventures as we explore the people, places, and phenomena, outside popular consciousness.
The documentary series features astonishing stories about the paranormal, the supernatural, occulture, forgotten history, and the strange.
Be Weird. Stay Curious. These are The Q Files.
If you enjoyed the show, be sure to subscribe and leave a review.
Stay in touch: Facebook: The Q Files Podcast, Twitter: TheQFilesPod, Instagram: TheQFilesPod The music for The Q Files is provided by Sounds Like An Earful.